Touch-Free Marking In The Colour Of Your Choice
---
alphaJET | Marking of Paper / Fleece
Consumables for household appliances must be clearly identifiable and assignable even outside the packaging.
This avoids errors in use and simplifies the subsequent repurchase of the product. Especially in the case of dust allergies, the use of dust bags is an important point for hygienic disposal.
International manufacturers of hoovers rely on the dependability of alphaJET non-contact coding systems for
marking original hoover bags. The inkjet printers of the alphaJET5 series are easy to operate and economical in consumption. Perfect matching of the printer and the ink used ensure the very best output, even at high
production speeds.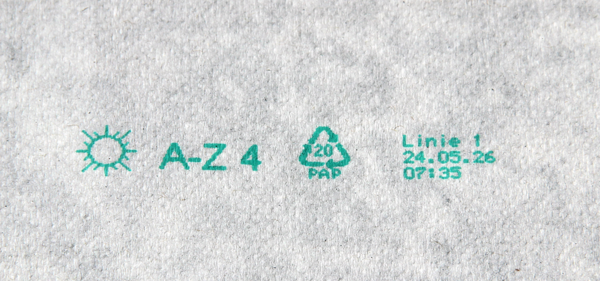 alphaJET | Ink Corporate Design Compliant
For companies, a logo or trademark represents the corporate identity (CI) and is of great importance for recognition. The logo is considered the key to the brand. In addition to text and form, use of colour makes a
significant contribution to memorable representation.
Thanks to its considerable ink expertise, Koenig & Bauer Coding individually developed a pigmented special ink for a well-known company in a CI-compliant special colour at the beginning of 2022. This ink is approved for use in the alphaJET5 HS-M inkjet printer.
Details
alphaJET5 HS-M Continuous Inkjet (CIJ) Integrated in a system for bag production
Ink / solvent Pigmented / MEK based
Substrate Paper, paper blend, non-woven
Coding in Practice: alphaJET Ink green
---